Steel frame garden building 4.1M X 6.2M
Realise the endless possibilities for your garden buildings with Permaroom from Permaroof UK. Fast and straightforward to erect, suitable for DIY. Talk to us about your home improvement projects.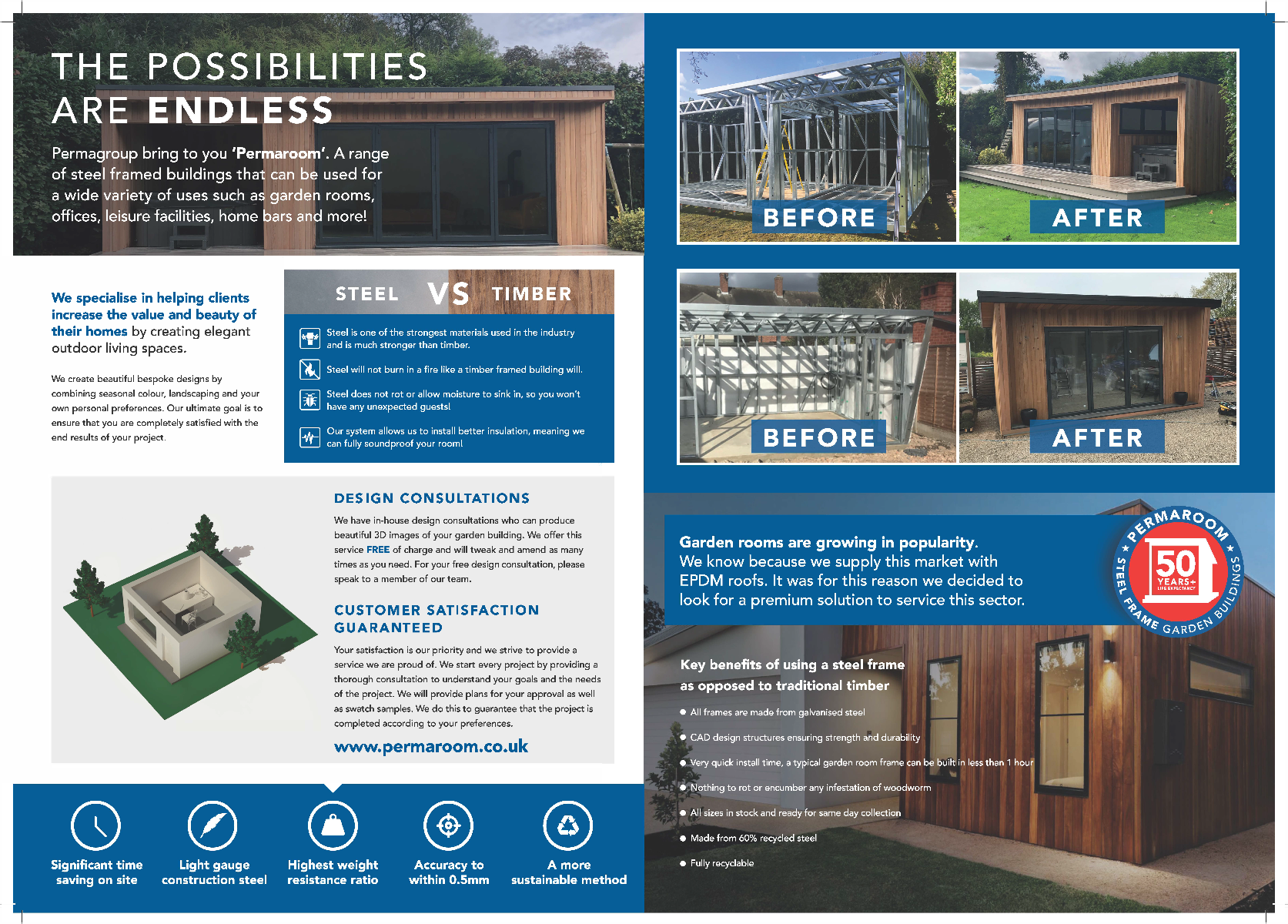 The Possibilities are Endless for Garden Buildings with Permaroom
Permagroup bring to you 'Permaroom', a range of steel framed garden buildings that can be used for a wide variety of uses such as, but not limited to:
Garden rooms
Offices
Leisure facilities
Home bars
And much more.
We specialise in helping clients increase the value and beauty of their homes by creating elegant outdoor living spaces.We create beautiful bespoke designs by combining seasonal colour, landscaping and your own personal preferences. Our ultimate goal is to ensure that you are completely satisfied with the end results of your project.
Download your Permaroom brochure from the resource library here.
Steel VS Timber
Steel is one of the strongest materials used in the industry and is much stronger than timber
Steel will not burn in a fire like a timber framed building will
Steel does not rot or allow moisture to sink in, so you won't have any unexpected guests!
Our system allows us to install better insulation, meaning we can fully soundproof your rooms.
Design consultations
We have in-house design consultants who can produce beautiful 3D images of your garden building. We offer this service FREE of charge and will tweak and amend as many times as you need. For your free design consultation, please speak to a member of our team.
Customer satisfaction guaranteed
Your satisfaction is our priority, and we strive to provide a service we are proud of. We start every project by providing a thorough consultation to understand your goals and the needs of the project. We will provide plans for your approval, in addition to swatch samples. We do this to guarantee that the project is completed according to your preferences.
Significant time saving on-site
Light guage construction steel
Highest weight resistance ratio
Accuracy to within 0.5mm
A more sustainable method for garden buildings
Garden rooms are growing in popularity. We know because we supply this market with EPDM roofs. It was for this reason that we decided to look for a premium solution to service this sector.
Key benefits of using a steel frame garden building
All frames are made from galvanised steel
CAD design structures ensuring strength and durability
Very quick install time, a typical garden building frame can be built in less that 1 hour
Nothing to rot or encumber any infestation of woodworm
All sizes in stock and ready for same day collection
Made from 60% recycled steel
Fully recyclable